ipaymy is giving away another FREE return
Business Class ticket to one of our amazing users.
Hop on over to ipaymy, make a payment and be
entered to win BIG! DOUBLE your chance of winning
by scheduling a recurring payment!
Use Code: FLYBIZ when making payment.
Schedule a recurring payment for a minimum
of 6 months and you will qualify for 2 entries!

Enter the code FLYBIZ when making your next payment, and be entered to win a
Free Business Class ticket in our lucky draw. Winner will be announced in February 2020!
Bonus Entry: Schedule a recurring payment for a minimum of 6 months and
you will automatically qualify for 2 entries into our lucky draw.
Don't miss your chance to win a free business class ticket!
Take advantage of this offer before it's gone!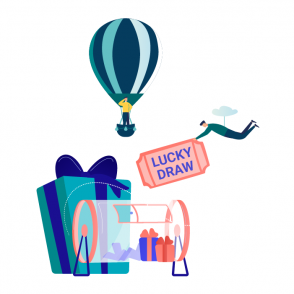 1. Lucky draw is open to all users in Hong Kong, Malaysia and Singapore.
2. To qualify for the lucky draw, a user must enter the code "FLYBIZ" at checkout.
3. To qualify for 2 lucky draw entrees, a user must schedule a recurring payment for a minimum of 6 months. The first payment must be charged in January. If the recurring payment is later cancelled the user will be disqualified.
4. The entry period of the lucky draw is January 6, 2020 to January 31, 2020. Entries submitted after January 31, 2020 will not qualify.
5. The "FLYZBIZ" code cannot be retroactively applied.
6. The qualifying payment must be for legitimate purposes and must comply with our Terms and Conditions.
7. Only one entry per person and per account is permitted. If a user is identified in attempting to submit multiple entries through multiple accounts their submissions will be disqualified.
8. The winner will be announced and notified by February 10, 2020.
9. The winner may select the airline, destination and dates of travel and ipaymy will purchase the business class ticket on the winner's behalf.
10. Travel must be completed within 2020.
11. The winner may designate a nominee to receive the business class ticket on their behalf.
12. The total value of business class ticket must not exceed S$5,000 or equivalent in local currency.
13. Should the value of the ticket exceed S$5,000 the winner may elect to 'top up' the difference to ipaymy. ipaymy will issue an invoice for the difference which may be paid to ipaymy by credit card.
14. The winner agrees to allow ipaymy to use their name and photo in ipaymy marketing communications, to include in social media.
15. The winner agrees to provide ipaymy with media such as pictures and videos of their, or their nominee's plane journey and trip which may be used for advertising.